Posts: 4,379
Site Admin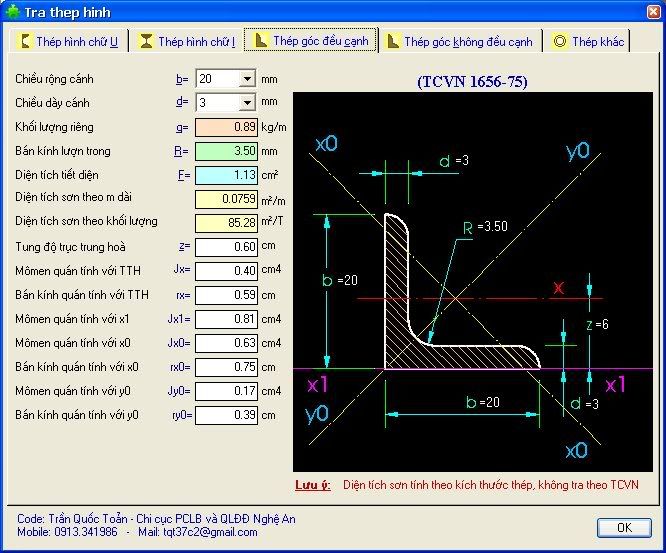 Bạn là dân xây dựng, bạn thường làm việc với các kết cấu sử dụng thép hình? Chắc hẳn đôi khi bạn sẽ thấy bực mình lúc cần xác định thông số 1 loại thép hình thông dụng nào đó mà không có bảng tra?
Chương trình Tra thep hinh sẽ giúp bạn rũ bỏ những phiền toái đó. Chương trình cho phép tra cứu 4 loại thép hình cơ bản (thép U, I, V, L) theo Tiêu chuẩn Việt Nam (TCVN) với đầy đủ các thông số cần thiết. Mỗi loại thép được thể hiện trên một thẻ (tab), có bản vẽ minh họa kèm theo nên rất thuận tiện cho việc tra cứu. Chương trình nhỏ gọn (147KB), không cần cài đặt, sử dụng phông ABC (đã tích hợp trong chương trình). Chương trình chạy được trên Windows 98/2000 và XP.
http://www.echip.com.vn/echiproot/Softwares/2007/tsth.rar
Website: www.phamduyminh.com
Forum: http://forum.phamduyminh.com
http://diendan.phamduyminh.com

Let's share to be shared.
Hãy chia sẻ để được sẻ chia.